Damien Rice is the opening act of current Fiona Apple's tour in USA and Canada. He has been playing a few new songs which hopefully will become part of his new album (untitled, unknown release date). In the meantime, we can check a few things I gather for you from the last Toronto's concert:
+ Accidental Babies - exclusive new track
mp3
/
video
It's a gut-wrenching piece about love & loss that I can't stop listening to. This is the age-old breakup song wherein the singer wonders about everything his lover is doing with her new guy ("Do you brush your teeth before you kiss? Do you miss my smell? Do you really feel alive without me? If so, be free. If not, leave him for me - before one of us has accidental babies.")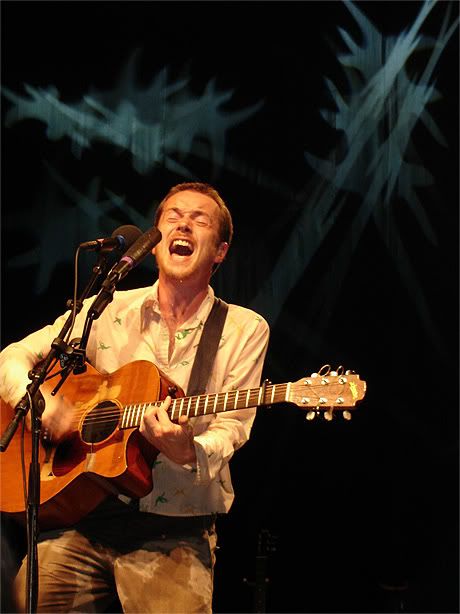 Damien was completely solo, no band at all. He played from 9pm til 11pm. He said that lisa will start the tour in boston and that the new album is completely recorded and done. Someone yelled "when is it coming out?!" he replied "soon." and then the crowd yelled "that's what you said last year..." he winced and said "december-ish. It's like trees... you know... how fruits.. come from trees.. And if you pick it too early... it's no good"
Also from the Toronto's concert:
+ Accidental Babies (oh how I hope this makes it onto the next album!)
http://www.youtube.com/watch?v=ci1TMpGXCcs
+ Volcano
http://www.youtube.com/watch?v=YTbskkE_MOc
+ Woman Like A Man
http://www.youtube.com/watch?v=DgNEFcJTM7g
+ I Remember (incomplete)
http://www.youtube.com/watch?v=BLQDI6U3OwY
+ The Professor & La fille danse
http://www.youtube.com/watch?v=49lxDbGNI1w
+ Another new song
http://www.youtube.com/watch?v=RH6JSIDchDU
+ BONUS:
Another complete broadcasted concert from 2003